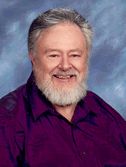 David E. Roy, Ph.D., Director
California Licensed Marriage and Family Therapist (MFT #8793) since 1976.

Fellow, American Assn. of Pastoral Counselors Since 1984
For more than 40 years, I have helped individuals recover from depression, anxiety, addiction, trauma; and couples overcome discord, improve communication and understanding, regain intimacy & romance, and recover from infidelity. I assist clients who wish to use their spiritual resources in these efforts.
IMPORTANT NOTICE: At present, I am not accepting new clients. I will continue accepting former clients who wish to return. For more information, send an email to clinical@cctnet.com with your name, contact information, and roughly when you were in therapy with me.
Psychotherapy & Pastoral Counseling

My areas of emphasis and expertise include the following:

Working with individuals for depression, anxiety, addictions, job stress, PTSD & trauma-recovery, personal and professional development.



Helping clients use their spiritual resources for growth and healing.



Assisting couples with communication problems, marital discord, loss of romance, sexual dysfunction, step-family adjustments, and recovery from infidelity.



Integrating Mindfulness-Based approaches into treatment as needed.